QUICK BOOKS
MachMerchant is developed on a 3-tier scalable architecture with state-of-the-art code bases that allow for easy integration into various software packages. Our small business solution has a tool that synchronizes the data from MachMerchant directly with QuickBooks to allow you perform your accounting functions, such as payables and receivables from QuickBooks. Currently synchronized with QuickBooks 2002, integration of our supply chain management software with QuickBooks 2003 is coming soon.
Information is synchronized continuously as all required information is stored in QuickBooks as well as MachMerchant
The synchronization report of the data being synchronized is available to you along with the reasons for any data not synchronized
In order to keep your business accounting updated in consistence with MachMerchant, keep importing data into QuickBooks on a regular basis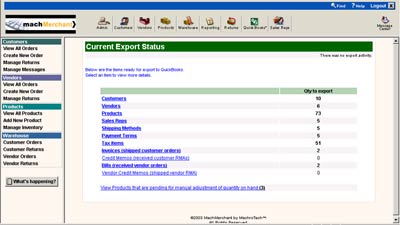 Click Image for Larger View
How does the synchronization work?
The QuickBooks module of MachMerchant, provides you a real time list of all your outstanding items that need to be exported to QuickBooks from MachMerchant
The application provides you with a 'Export' button to automatically export all the required data from MachMerchant into QuickBooks
Once you export the data, you receive a report confirming that the data has been successfully exported
The details of the following items can be exported from MachMerchant to QuickBooks:
Customers
Vendors
Products
Sales Reps
Shipping Methods
Payment Terms
Tax Items
Invoices (Shipped Customer Orders)
Credit Memos (Received customer RMA`s)
Bills (Received Vendor orders)
Vendor Credit Memos (Shipped Vendor RMA)
Sitemap | Privacy Policy | Terms and Conditions | Contact Us